The Coordinators have been selected for their outstanding expertise and standing in the community, and serve in their personal capacity to help coordinate over 100 stakeholders in the Contact Groups, who currently actively work on implementing the Ottawa Roadmap to develop proposals for operational solutions and policy standards to some of the most pressing cross-border legal challenges on the Internet. The results of their work will be released in April 2019 for public consultations.
Learn more about the three Contact Groups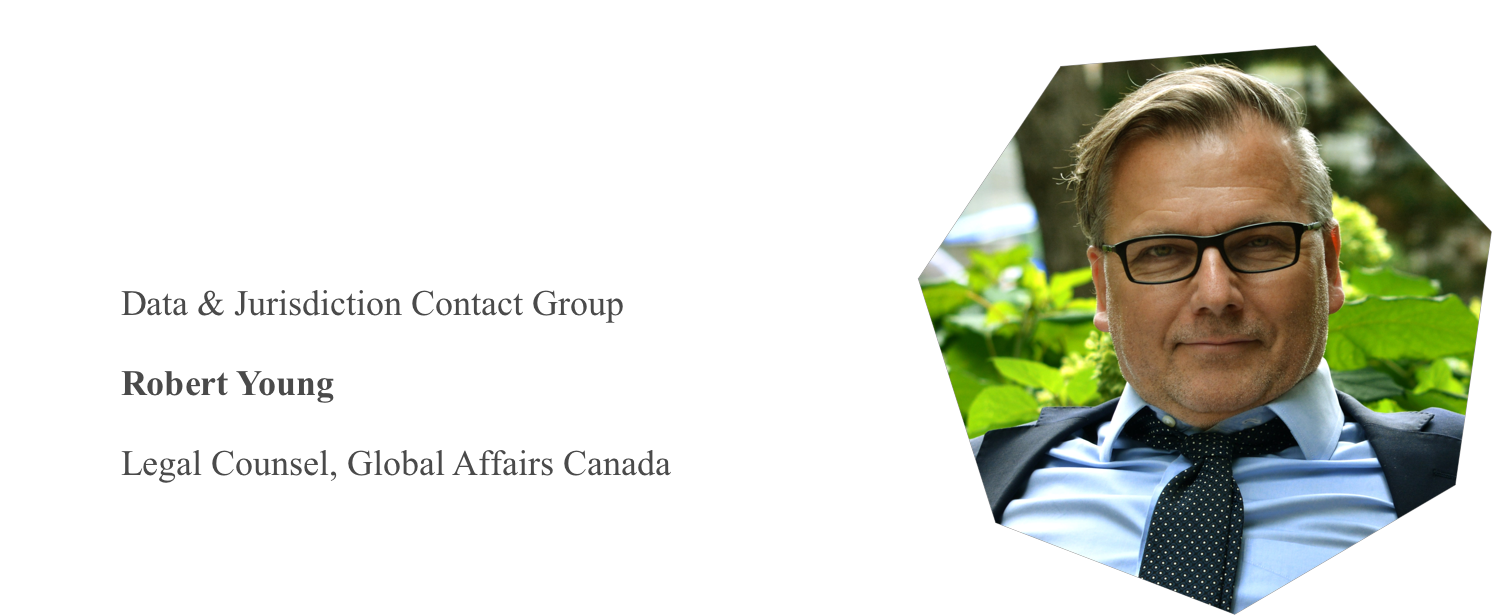 I believe that the Data & Jurisdiction Contact Group can move past identification of issues and problems and begin to craft possible solutions. I am convinced that we will be able to develop a series of concise texts that will contain elements of these possible solutions.
Upon his nomination as neutral Coordinator, Mr. Young said "I am thrilled with the composition of our Contact Group, which contains world experts from all the major stakeholder groups. My plan is to focus on process with a view to facilitating an open and creative exchange, aiming for concrete outcomes".

"We have no choice but to tackle the topic", he added. "Every month, every week, we are confronted with the negative consequences of the disparate and often conflicting developments concerning data and jurisdiction. If practical approaches to resolve these are not developed, the situation will only get worse, which will force some stakeholders to develop more ad hoc arrangements."
These complex issues can best be addressed together by all concerned stakeholders, and the Internet & Jurisdiction Policy Network has demonstrated its value of being this dedicated multistakeholder platform.
Mr. Young is well-equipped for this neutral role, having worked for almost two decades for the International Committee of the Red Cross, in a variety of legal, operational and leadership roles that took him to more than thirty countries. He is currently Legal Counsel at the Criminal, Security and Diplomatic Law Division of Global Affairs Canada, Canada's foreign ministry. 
As an international lawyer specialized in cyber and international law issues, he has represented Canada in interdepartmental working groups, as well as multilateral and multi-stakeholder processes. He was legal adviser to the Canadian Expert in the UN Group of Governmental Experts process (2016-2017), and very active in Canada's growing engagement in the Budapest Convention plenary and negotiations. Mr. Young is also an Adjunct Professor in International Law and International Relations at the University of Ottawa.
List of Members of the Contact Group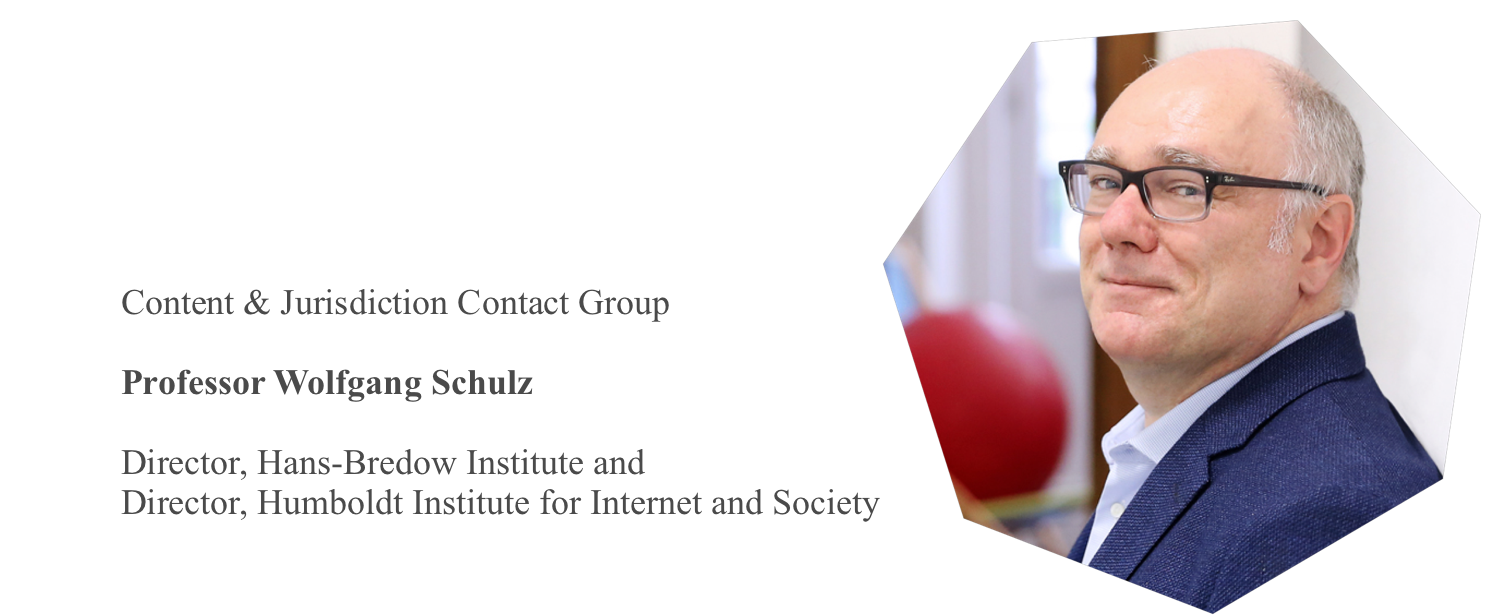 The Content Group consists of a diverse set of high-level experts. Diversity of perspectives is imperative. The results will only have a real-world impact if they go beyond existing compromises, and are regarded as a step forward by all relevant stakeholders. We have the unique opportunity to make that happen.
"Currently, we are seeing more and more national and regional regimes regulating content in ways that are incompatible with each other. Finding interfaces here that make jurisdictional problems at least manageable is a central task for the development of future-proof internet governance."
When Professor Wolfgang Schulz was appointed as the Coordinator of the Content & Jurisdiction Contact Group, he highlighted the prospect of what its Members can achieve together:

Professor Schulz, who served already as the moderator of the Content & Jurisdiction Workstream at the 1st and 2nd Global Conferences of the Internet & Jurisdiction Policy Network, which successfully adopted Areas of Cooperation in Paris (2016) and the Ottawa Roadmap with its Work Plan (2018), emphasizes: 
Our ambition is to develop concrete proposals for solving conflicts in the area of content and to present them next year in Berlin.
A member of the Directorate of the German Hans-Bredow Institute since 2001, Mr. Schulz  has been appointed Professor at the Faculty of Law of the University of Hamburg in 2011. He is a board member of the German Commission for UNESCO and was appointed as Chair of the Committee of Experts on Internet Intermediaries (MSI-NET) of the Council of Europe. He was also an expert member of the Enquete-Commission 'Internet and Digital Society' of the German Parliament.
List of Members of the Contact Group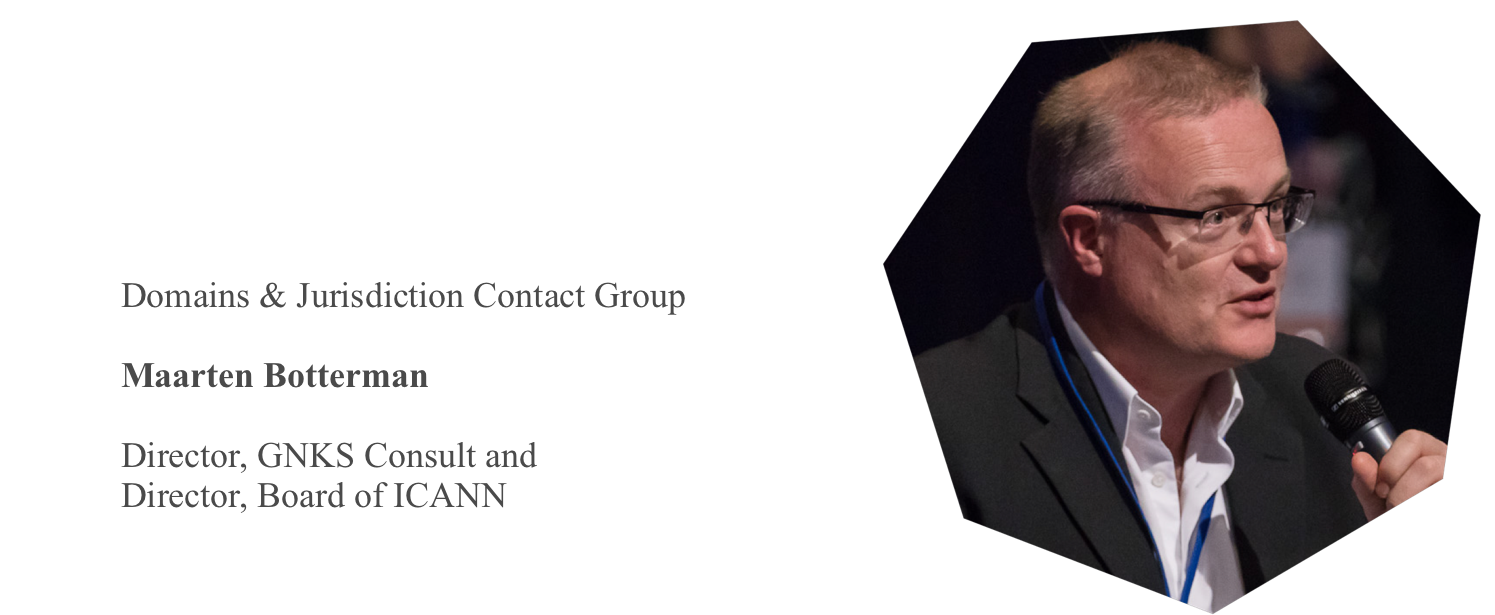 I am delighted with the composition of the Domains & Jurisdiction Contact Group, as it represents a diversity of stakeholders, and a diversity of cultures.
Maarten Botterman, Director of GNKS Consult and Director of the ICANN Board since 2016, has been appointed as the neutral Coordinator of the Domains & Jurisdiction Contact Group.
Many issues that have arisen over time do not fall within the ICANN mandate. I do think that this Contact Group will be excellent at raising the issues to be addressed. In addition, I believe we will be able to agree on a number of practices that are important for justified trust in the Internet, and practicable for those that would adopt those practices.
Mr. Botterman has over 25 years of experience in guiding governments and major organizations on the impacts of internet innovations and technologies and has been a Special Advisor to the Dutch government and the European Commission. He was Chairman of the Public Interest Registry from 2010 to 2016, and is currently a Chairman of the IGF Dynamic Coalition on Internet of Things and a Chairman of the Supervisory Board of the NLNet Foundation. Mr Botterman, who was already the Moderator of the Domains & Jurisdiction Workstreams at the 1st and 2nd Global Conferences of the Internet & Jurisdiction Policy Network, underlines why the Ottawa Roadmap and the work of the Domains & Jurisdiction Contact Group is crucial:
"If we, together, don't tackle these issues, there are two possible effects that may reduce the practical use of the Internet as open, end-to-end platform for communication and exchange of information: It would degrade its use because of bad experiences for its users such as phishing or other abuses, which "scare them off". In addition to limiting its use, it would also increase the costs because of governments stepping in and adopting national regulation to tackle these issues, which would then not necessarily be coordinated and coherent at a global level."
List of Members of the Contact Group