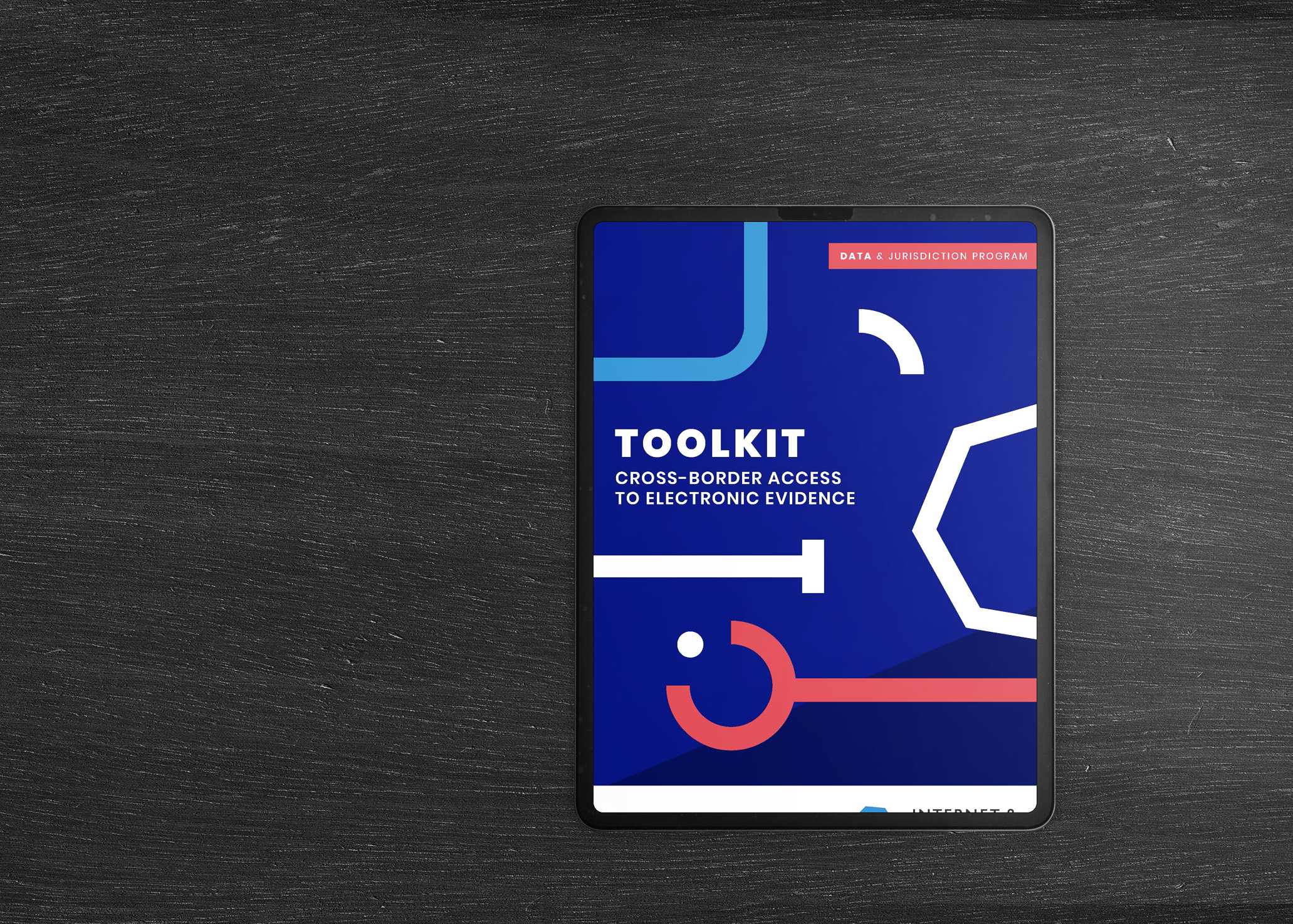 Data & Jurisdiction Program
Toolkit
Cross-Border Access to Electronic Evidence
Purpose
Informing the development and implementation of human rights respecting frameworks for cross-border access to electronic evidence
The Toolkit informs public, private and civil society actors on the components of, and the requisite due process standards and guarantees for the development of cross-border access to electronic evidence regimes.
Read more about Issue Framing
A collaborative effort of over 100 stakeholders
From governments, internet companies, technical operators, civil society, leading universities, and international organizations.
Raising awareness
Helping actors develop and implement rights respecting mechanisms facilitating cross-border access to electronic evidence where requests/orders are made directly to service providers.
Clear common guidelines
Enabling interoperability across heterogeneous governance frameworks and coexistence between actors.
I&JPN Methodology
The Internet & Jurisdiction Policy Network fosters a new approach to transnational policy-making. Its innovative methodology identifies relevant stakeholders to define common problems and produce solutions to pressing and complex policy challenges.
Since 2016 in regular iterations, the Data & Jurisdiction Program Contact Group engages key global policy actors. Contact Groups iteratively develop concrete outcomes pertaining to specific facets of cross-border access to electronic evidence some of which are included in this Toolkit.
Meet the members
Framing common problems
Stakeholders develop a shared framing of the issue. This provides a common understanding of the policy problem and identifies areas for cooperation.
Developing common approaches
Stakeholders develop Operational Norms, Criteria and Mechanisms to offer concrete avenues for cooperation.
Setting common objectives
Stakeholders identify structuring questions to develop a framework within which concrete policy solutions can be developed.
Fostering legal interoperability
Work is conducted to communicate and aid the implementation of policy solutions. This may take the form of Toolkits compiling thematic Outcomes.
Overview
Criminal investigations increasingly require access to information about users and digital evidence stored in the cloud by service providers in jurisdictions outside the requesting country.
This Toolkit curates resources that can provide actors with clarity on their respective roles and responsibilities in the process of cross-border access to electronic evidence. While providing practical tools for law enforcement agencies as well as service providers to understand the different components and thresholds for cross-border requests, this Toolkit also seeks to inform the debate surrounding multilateral, and bilateral international agreements facilitating such access. Towards this the Data & Jurisdiction Program Contact Group focuses on the definition of high substantive and procedural standards:
Allowing relevant authorities from specific countries,
In investigations regarding certain types of crimes with clear nexus with the requesting country,
To directly submit structured and due process-respecting requests,
To private companies in another country to obtain the voluntary disclosure,
Of user data, irrespective of where such data is stored.
Contents
This Toolkit has a twofold structure. The first section provides an overview of the structure and components of any cross-border regime for electronic evidence and aims to serve as an analytical framework for navigating the complexities of such regimes. The second section of this Toolkit adapts these components to suit the parameters of voluntary disclosure practices, in order to provide context and tools for states and service providers to improve the process of, respectively, making and handling such requests.
GENERAL STRUCTURE AND KEY REGIME COMPONENTS FOR ACCESSING ELECTRONIC EVIDENCE
CROSS-BORDER ACCESS TO ELECTRONIC EVIDENCE GENERAL REGIME ARCHITECTURE
REGIME STANDARDS
Regime scope
Public Authorities
Providers
Users
REQUEST / ORDER STANDARDS
Transmission
Request Formats
Nexus
VOLUNTARY DISCLOSURE
REGIME STANDARDS
Cross-Border Requests for Voluntary Disclosure of Subscriber Information
REQUEST / ORDER STANDARDS
Request Formats for Voluntary Disclosure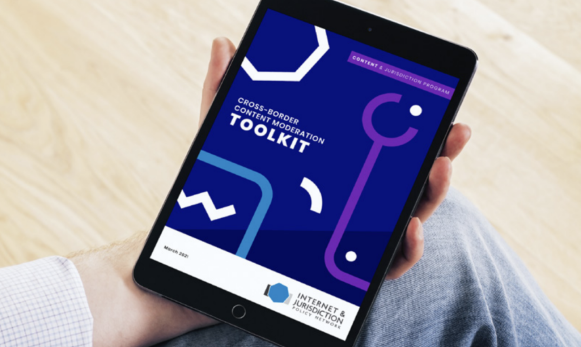 INTERNET & JURISDICTION POLICY NETWORK
"Managing the way that a large number of separate legal frameworks apply to the internet is one of the big policy challenges of our time. More complex than building the internet itself."

- Vint Cerf Co-inventor of the internet, writing in the Financial Times ahead of the Second Global Conference of the Internet & Jurisdiction Policy Network in 2018

"The Internet & Jurisdiction Policy Network delivers concrete, operational outcomes and this is exactly what has to be done if we want to tackle global challenges around the internet."

- Stefan Schnorr, Director General, Digital and Innovation Policy, Ministry for Economic Affairs and Energy, Germany

"We think [the Internet & Jurisdiction Policy Network] serves as a strong example for how constructive multistakeholder engagement can lead to viable operational solutions to difficult internet policy problems. "

- Brian Huseman Vice President of Public Policy, Amazon

"A gathering of the brightest minds in judiciary, technology and policy processes. The Internet & Jurisdiction Policy Network is the place to be."

- Mary Uduma Chair, Nigeria Internet Governance Forum (NIGF)

"The Internet & Jurisdiction Policy Network is a positive example of making sure that multistakeholder is really fully multistakeholder."

- Sharon Bradford Franklin, Policy Director, New America's Open Technology Institute
The Internet & Jurisdiction Policy Network is the multistakeholder organization fostering legal interoperability in cyberspace. Its stakeholders work together to preserve the cross-border nature of the internet, protect human rights, fight abuses, and enable the global digital economy.
6 STAKEHOLDERS
GROUPS
400+ ENTITIES
70+ COUNTRIES