Work
Global Multistakeholder Policy Network
The Internet & Jurisdiction Policy Network addresses the tension between the cross-border Internet and national jurisdictions. Its Paris-based Secretariat facilitates a global multistakeholder policy process to enable transnational cooperation and preserve the global character of the Internet. Since 2012, the Internet & Jurisdiction Policy Network has engaged more than 200 key entities from different stakeholder groups around the world.
More Transnational Cooperation, or a Less Global Internet
Most online interactions simultaneously involve multiple jurisdictions based on the locations of users, servers, Internet platforms, or technical operators. Traditional modes of interstate legal cooperation, based on territorial sovereignty, therefore struggle to handle the digital realities of the 21st century. In the absence of appropriate transnational frameworks, increasing tensions trigger uncoordinated short-term solutions and risks unintended consequences, such as unwanted fragmentation and acute jurisdictional conflicts.
The Internet & Jurisdiction Process
The Internet & Jurisdiction Policy Network uniquely bridges relevant stakeholder groups and policy silos in order to enable transnational cooperation. It strives to fill the institutional gap in Internet governance at the intersection of four policy silos: legal cooperation, digital economy, human rights, and cybersecurity. Through global, regional, and thematic meetings, its Secretariat facilitates a neutral dialogue process to build trust among the different actors and help them develop the operational solutions necessary for the coexistence of diverse laws on the cross-border Internet.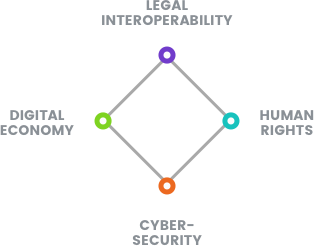 Internet & Jurisdiction Programs
Responding to the pressing needs of the global community, the thematic programs of the Internet & Jurisdiction Policy Network catalyze the development of issue-based policy standards.