The I&JPN Secretariat Framing Brief aims to help actors analyse the complex policy issues surrounding content moderation in relation to COVID-19. The document includes a set of framing questions all actors can use to analyze content moderation in this exceptional context and evaluate the impact.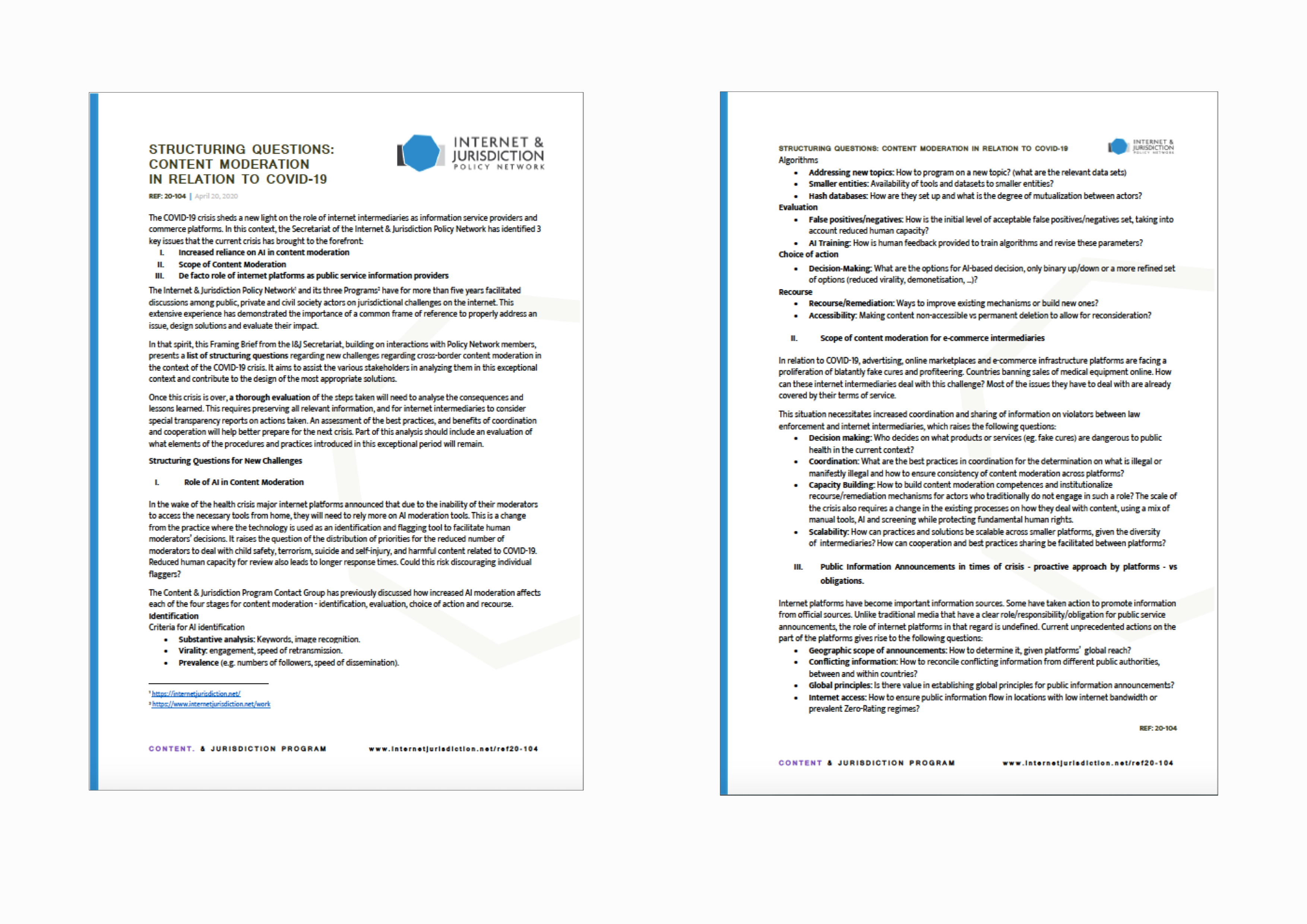 The COVID-19 crisis sheds a new light on the role of internet intermediaries as information service providers and commerce platforms. Major internet platforms have become important information sources and many have announced that due to the inability of their moderators to access the necessary tools from home, they will need to rely more on AI moderation tools. Online marketplaces and e-commerce infrastructure platforms are also facing a proliferation of fake cures and profiteering.

The pandemic brings to the fore some important and concrete issues in direct relation to the work of the stakeholders in the Internet & Jurisdiction Policy Network. Building on interactions with Members of the Content & Jurisdiction Program Contact Group, the I&JPN Secretariat has developed a Framing Brief on Content Moderation Challenges in time of COVID-19.

Several years of experience facilitating policy discussions among public, private and civil society actors in the I&JPN's three Programs, demonstrate the importance of common framing questions to properly address an issue, design policy solutions and evaluate their impact. 

The Framing Brief is structured around three major issues: 

1) Increased reliance on AI in content moderation
2) Scope of Content Moderation
3) De facto role of internet platforms as public service information providers

The I&JPN Secretariat has prepared this Framing Brief to trigger meaningful discussions between public and private actors on content moderation in relation to COVID-19. Analysing the situation through a set of common framing questions, will help all stakeholders to design the most appropriate solutions.

The Internet & Jurisdiction Policy Network is the multistakeholder organization addressing the tension between the cross-border Internet and national jurisdictions. It engages over 300 entities from governments, the world's largest internet companies, technical operators, civil society groups, academia and international organizations from more than 50 countries.

For more information about the Internet & Jurisdiction Policy Network and the work of the Content & Jurisdiction Program see here.