The Government of Japan has released a Report on Governance Innovation referencing the Internet & Jurisdiction Policy Network as a key example of a multi-stakeholder organization working to foster legal interoperability in the digital economy.

The Report "Governance Innovation Society 5.0"  was released at the Organization for Economic Cooperation and Development Global Conference on Governance Innovation: Towards Agile Regulatory Frameworks in the Fourth Industrial Revolution, which set out to discuss how innovative regulatory policy and governance approaches can help reconcile the effectiveness and innovation-friendliness of laws and regulations for the fourth industrial revolution. 

The effectiveness of innovative policy action relies on stakeholders to actively coordinate. Over 300 key entities including governments, the world's largest internet companies, technical operators, civil society groups, academia and international organizations from over 50 countries work together in the Internet & Jurisdiction Policy Network to develop policy standards for common concrete challenges including:

Cross-border access to electronic evidence (Data & Jurisdiction Program)
Cross-border content moderation & restrictions (Content & Jurisdiction Program)
Cross-border DNS-level action  to address abuse (Domains & Jurisdiction Program)

Read the 34 Norms, 31 Criteria and 3 Mechanisms proposed by the Members of the Internet & Jurisdiction Policy Network's Program Contact Groups in 2019.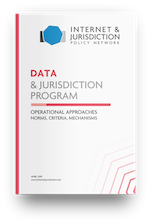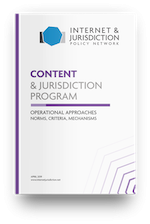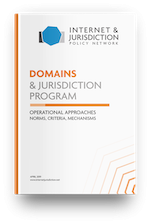 Complementing the work of the Programs of the Internet & Jurisdiction Policy Network and responding to the urgent call of senior-level stakeholders, the Internet & Jurisdiction Global Status Report 2019 was released on November 27, 2019. The Report presents a first-of-its-kind mapping of internet jurisdiction related policy trends, actors and initiatives and was recognized by stakeholders at the United Nations Internet Governance Forum as an important tool in enabling evidence-based policy innovation.